Casa (3- 6 years) and Toddler (15 months and up)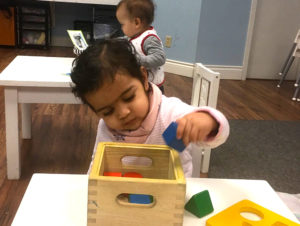 At Montessori Education Centre, we offer both toddler and Casa (preschool) programs which includes the age bracket of toddler-six years old, also known as the formative years and most important years of life. The Montessori Method of Education is followed whereby children learn at their own pace absorb vast amounts of information during their sensitive period of life.
The Casa environment has five distinct areas including: Sensorial, Language, Math, Culture and Practical Life. The "Montessori method" consists of didactic materials within a classroom setting that resembles a home which aids children at each stage of their development.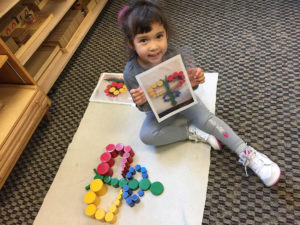 Practical Life Exercises assist children in learning to take care of themselves, each other and their environment while strengthening gross motor skills and fine motor skills. Sensorial Activities provide specific opportunities for exploration which refine the five senses, further enhancing concentration. Mathematical materials offer an exciting concrete experience of number concepts and operation. Cultural subjects include biology, science, geography, history, art, French and music. Language through the use of the sand paper letters, a child is able to gain an understanding and recognition of the alphabetical symbols. In a Montessori setting the child will learn the phonetic sounds of the letters prior to learning the alphabetical names in sequence. The phonetic sounds are taught first because these are the sounds that the child initially hears in spoken words.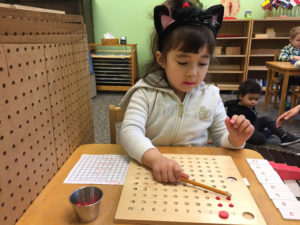 The child's sensitive periods are recognized as he/she is guided to develop co-ordination, concentration, good work habits and academic skills.
Through a unique cycle of learning, and individualized presentations, the Montessori method enables children to learn at their unique pace of development while developing an early appreciation for learning. Through concrete (hands-on) experiences in the classroom, children work individually as well as collaboratively with peers and are introduced to writing, arithmetic and basic skills of reading.
Extra-curricular Activities
Includes Modern Dance, French, Music, and Martial Arts. (Program availability is subject to school location)
Lunch Program
Lunches are included in full day and extended half-day programs. Nutritious snacks and hot lunches are provided.

Wholesome Kids Catering provides healthy and nutritious hot meals and snacks to kids in child care centres and schools. We enrich lives by giving kids the nourishment and energy they need to eat, grow and thrive!
Before & After School program
Montessori Program runs from 9a.m-4p.m. The school opens at 7:30 a.m. and closes at 6 p.m. Extended care is from 7:30 a.m-9a.m. and from 4p.m-6p.m. During this time children will be engaged in arts and crafts, reading, participating in games, playing with Lego and putting together puzzles, as well as free play and outdoor activities.
Summer Camp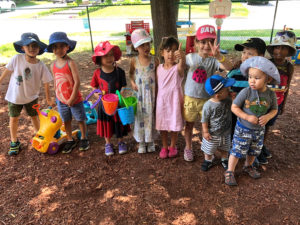 Our summer camp is a safe and fun-filled two months in which children can enjoy doing a variety of activities Summer Program Features – Montessori activities – Fun and Games- based on the weekly theme – Water play (Hendon Park, Kids-Town) – Field trips (Riverdale Farm, Forsythe Farm, Science Centre) – Guest speakers from the community (Police Officer, dental educator) – Arts and Crafts and Computer – Picnics and Parties – Simple experiments to see the wonder of science and more… Come explore the worlds of science, cooking, gardening and much more!